Online

Verified, interconnected open-source intelligence across land, sea and air platforms, weapons and systems, supports entity recognition, capability and threat assessments, and market analysis.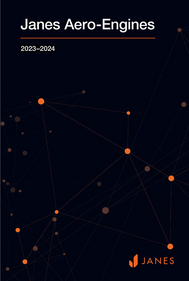 Aero Engines 23/24 Yearbook
Janes Aero-Engines Yearbook 23/24
ISBN: 978-0-7106-3422-1
Assess current airborne propulsion technologies and capabilities.
This comprehensive resource provides detailed information on the gas-turbine aero engines that are in production and in service worldwide, both civil and military. Technical and market intelligence supports aerospace and defence companies with product and business development, while the content assists military and security organisations with analysis, planning, and procurement.
Janes Aero-Engines helps you:
Assess propulsion technologies
Evaluate competitors, partners, and acquisition targets
Discover sales opportunities
Conduct competitor analysis
Model airborne threat scenarios
What's included:
Records of more than 230 aviation gas-turbine engines used by military and commercial users worldwide
Updated and verified information to ensure currency and value for users
An overview that discusses the major developments in aero engine programmes worldwide as well as progress made in emerging technologies and sustainable propulsion
Data tables for aircraft piston engine types