Online

Verified, interconnected open-source intelligence across land, sea and air platforms, weapons and systems, supports entity recognition, capability and threat assessments, and market analysis.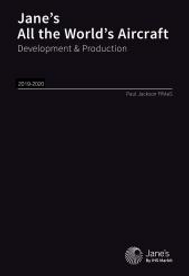 All The World's Aircraft Dev & Production 19/20
Janes All the World's Aircraft: Development & Production Yearbook 19/20
Understand the world's most modern aircraft
This broad reference examines all current civil and military aircraft in development and under production around the world, providing analysis, strategy and procurement data. A critical tool for operators and analysts to identify the capabilities, threats and opportunities of modern aviation assets.
Janes All the World's Aircraft: Development & Production from Janes Group helps you:
Evaluate competitors, partners and acquisition targets
Assess air technologies
Recognise aerospace market trends
Target product development opportunities
Model air threat scenarios
Profiles on 877 civil and military aircraft in development or production globally and 527 companies offering unrivalled technical and program data including:
Aircraft type, versions and variants
Design features
Systems, weapons and avionics fitted
Program history and milestones
Development, production and procurement costs
Customers
Contractors