Online

Verified, interconnected open-source intelligence across land, sea and air platforms, weapons and systems, supports entity recognition, capability and threat assessments, and market analysis.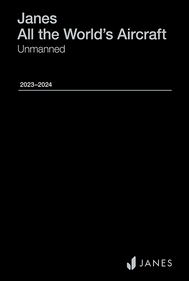 All The World's Aircraft: Unmanned 23/24 Yearbook
Janes All the World's Aircraft: Unmanned Yearbook 23/24
ISBN: 978-0-7106-3425-2
Create capability advantage and business development success.
This yearbook provides an in-depth exploration of unmanned aerial systems that are under development, in production, or deployed worldwide. It encompasses unmanned aerial vehicles (UAVs), aerial targets, and launch and recovery systems, as well as control and communication systems. It serves as a vital resource for military and security organisations seeking to boost their airborne advantage. Simultaneously, aerospace and defence industry leverage this market insight, empowering them with a distinct strategic capability.
Janes All the World's Aircraft: Unmanned helps you:
Identify, recognise, and compare UAVs in service
Evaluate competitors, partners, and acquisition targets
Conduct UAV market research
Assess current technologies and capabilities
Model current and emerging airborne threat scenarios
What's included:
Profiles of more than 500 UAVs and 100 aerial targets in production and in-service worldwide
An overview section detailing new UAV programmes with military interest
Definitions for UAVs and aerial targets including an unmanned air system classification section to include the latest developments in the domain
Overview of UAV usage in the Russia-Ukraine conflict, countries of the Middle East, and tensions between China and Taiwan
Special update on manned-unmanned teaming (MUM-T), loyal wingman programmes, and hypersonic UAV technologies