Online

Verified, interconnected open-source intelligence across land, sea and air platforms, weapons and systems, supports entity recognition, capability and threat assessments, and market analysis.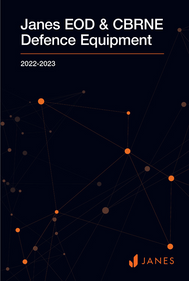 EOD & CBRNE Defence Equipment 22/23 Yearbook
Janes EOD & CBRNE Defence Equipment Yearbook 22/23
ISBN: 978-0-7106-3416-0
Assess threats and identify opportunities
This information resource provides comprehensive information on mine, EOD and CBRNE detection, clearing and protective equipment and technology—under development, in production and in use around the world. Covers explosive ordnance and CBRN agents. Market intelligence helps A&D businesses, while defense organizations glean detailed technical information to support cost-effective procurement.
Janes EOD & CBRNE Defence Equipment from Janes Group helps you:
Assess EOD and CBRN equipment and technologies
Procure, develop and maintain capability
Forecast market trends
Identify suppliers, partners and acquisitions
Determine future sales opportunities
What's included - Profiles on 1,600+ types of mine disposal, EOD and CBRNE equipment, technologies and services, covering:
Detailed specification, variant and technical details
Detection, disposal, clearing and personal protective equipment
Photographs and diagrams
Suppliers and manufacturers