Online

Verified, interconnected open-source intelligence across land, sea and air platforms, weapons and systems, supports entity recognition, capability and threat assessments, and market analysis.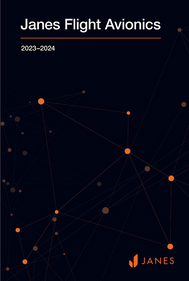 Flight Avionics 23/24 Yearbook
Janes Flight Avionics Yearbook 23/24
ISBN: 978-0-7106-3427-6
Assess avionics systems and develop capability
This comprehensive reference details flight avionics control and related systems—in development, in production and in service in aircraft around the world. Provides information to military and security organizations to support capability analysis, planning and procurement, and delivers market intelligence to A&D firms.
Janes Flight Avionics from Janes Group helps you:
Determine current and future capability requirements
Identify avionics suppliers, partners and acquisition targets
Conduct market research and competitor analysis
Evaluate partners and acquisitions
Discover sales opportunities
Model scenarios
What's included - Profiles of 1,700+ avionics systems covering:
Display systems, description and specifications
Flight and mission management
Control and monitoring systems
Avionic communication systems
Navigation systems
Type, versions and variants
Program history and status
Contractor information