Online

Verified, interconnected open-source intelligence across land, sea and air platforms, weapons and systems, supports entity recognition, capability and threat assessments, and market analysis.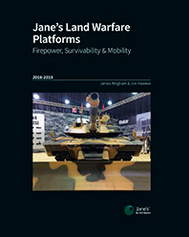 LWP: Firepower , Survivability, Mobility 18/19
Jane's Land Warfare Platforms: Firepower, Survivability & Mobility 18/19
Develop capabilities and identify upgrade opportunities
This information resource provides comprehensive profiles of upgrades to land warfare platforms and systems currently in service worldwide. Analysis helps military and security organizations deliver and maintain strategic land platform capability, while A&D businesses benefit from market intelligence.
Janes Land Warfare Platforms: Firepower, Survivability & Mobility from IHS Markit helps you:
Evaluate competitors, partners and acquisitions
Conduct industry market research
Assess future technologies and capabilities
Model land-based threat scenarios
Discover market opportunities
Profiles of 650+ military land vehicle upgrades and subsystems cover:
Detailed specification, variant and development details
Program status and development
Country inventories
Photographs and diagrams
Supplier and manufacturer information