Online

Verified, interconnected open-source intelligence across land, sea and air platforms, weapons and systems, supports entity recognition, capability and threat assessments, and market analysis.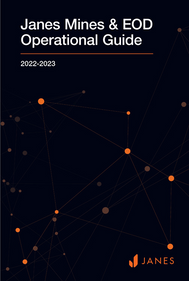 Mines & EOD Operational Guide 22/23 Yearbook
Janes Mines & EOD Operational Guide Yearbook 22/23
ISBN: 978-0-7106-3415-3
Support effective explosive ordnance disposal
Provides operational information on the recognition and disposal of mines and explosive ordnance devices — in production and in use worldwide. Reference data supports development and implementation of safe and effective explosives-neutralization procedures and techniques.
Janes Mines & EOD Operational Guide from Janes Group helps you:
Identify unexploded ordnance
Understand current military mine defence
Create explosives-handling training materials
Maintain training and operations levels
Model anti-personnel threat scenarios
What's included - Profiles on 550+ types of mine and explosive ordnance devices covers:
Descriptions and specification
Operational characteristics, including ammunition markings
Details and analysis of mines, booby traps and fuses
Neutralization and disarming procedures
Mines in operation around the world
Photographs and sectional diagrams