Online

Verified, interconnected open-source intelligence across land, sea and air platforms, weapons and systems, supports entity recognition, capability and threat assessments, and market analysis.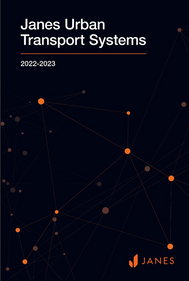 Urban Transport Systems 22/23 Yearbook
Janes Urban Transport Systems yearbook 22/23
ISBN: 978-0-7106-3407-8
Develop innovative and effective transport networks
This resource provides information on urban transport systems and operators for 81 countries worldwide. Details are given for the world's major public transport systems, including details of both current operations and plans for future projects. Traffic statistics are given for all operations where they are available, together with fleet lists and numbers in service.
Janes Urban Transport Systems helps you to:
Uncover market opportunities through project and contract data
Conduct effective urban transportation market research through traffic statistics and system data
Track technology developments and identify new solutions
Monitor operator fleet inventory through rolling stock datasets of individual system operator
Each urban transport system operator profile covers:
An overview of the entire operator by providing information on entity type, types of service mode and operation, subsidiary headquarters, route lines/names, latest route length and website.
A brief history/overview of the operator.
Useful operator statistics covering passenger journeys, fleet listings, route lines and operational data.
Recent improvements or additions to existing services/infrastructure and information on future developments proposed/planned projects.