Online

Verified, interconnected open-source intelligence across land, sea and air platforms, weapons and systems, supports entity recognition, capability and threat assessments, and market analysis.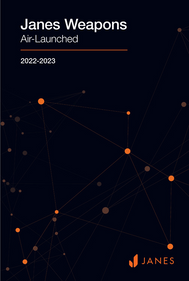 Weapons: Air-Launched 22/23 Yearbook
Janes Weapons: Air-Launched Yearbook 22/23
ISBN: 978-0-7106-3390-3
Understand air-launched weapons threats
Access in-depth data on weapons carried on the world's air platforms. Technical and program information helps military and security organizations with intelligence, planning and procurement.
Janes Weapons: Air-Launched helps you:
Assess technologies and capabilities
Conduct industry market research
Identify airborne weapons suppliers
Discover emerging defence needs
Evaluate competitors, partners and acquisition targets
Model air warfare threat scenarios
What's included:
All records review or updated for 480+ weapon types
6 new records including the US AGM-183A Air-Launched Rapid Response Weapon, Peregrine missile and Russian 9M123 Khrizantema (AT‐15 'Springer') missile
Includes 1400 weapon variants and specifications across 139 countries