Online

Verified, interconnected open-source intelligence across land, sea and air platforms, weapons and systems, supports entity recognition, capability and threat assessments, and market analysis.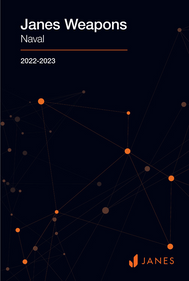 Weapons: Naval Yearbook 22/23
Janes Weapons: Naval Yearbook 22/23
ISBN: 978-0-7106-3392-7
Drive critical naval weapons decisions
Comprehensive reference coverage of naval weapons in development, in production and in service with naval forces worldwide. Military and security organisations benefit from technical insights into the capabilities of navy weapons, while industry customers find the product invaluable for competitor analysis and business development.
Janes Weapons: Naval helps you:
Conduct technology benchmarking
Identify naval weapon suppliers
Evaluate competitors, partners and acquisition targets
Build Maritime threat scenarios
Discover sales and upgrade opportunities
What's included:
Over 150 records have been updated including the Russian 3M-22 Zircon (also known as 3M-22 Tsirkon) hypersonic missile
New records include the Israeli Sea Breaker anti-ship and land-attack long-range missile system and Chinese HD-1 Supersonic cruise missile