Online

Verified, interconnected open-source intelligence across land, sea and air platforms, weapons and systems, supports entity recognition, capability and threat assessments, and market analysis.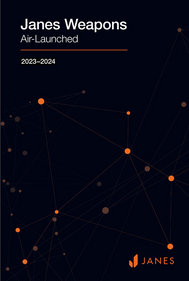 Weapons: Air-Launched 23/24 Yearbook
Janes Weapons: Air-Launched Yearbook 23/24
ISBN: 978-0-7106-3420-7
Understand air-launched weapons threats
Access in-depth data on weapons carried on the world's air platforms. Technical and programme information helps military and security organisations with intelligence, planning, and procurement.
Janes Weapons: Air-Launched helps you:
Assess technologies and capabilities
Conduct industry market research
Identify airborne weapons suppliers
Discover emerging defence needs
Evaluate competitors, partners and acquisition targets
Model air warfare threat scenarios
What's included:
475 weapon types with new records including the Russian Kh-69 missile
Updates to more than 93% of structured records with new imagery
New section for loitering munitions including the US Switchblade
1,500+ weapon variant specifications across 138 countries.