Online

Verified, interconnected open-source intelligence across land, sea and air platforms, weapons and systems, supports entity recognition, capability and threat assessments, and market analysis.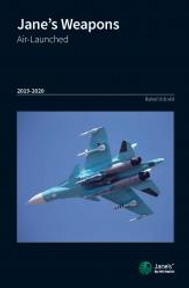 Weapons: Air-Launched Yearbook 19/20
Janes Weapons: Air-Launched Yearbook 19/20
Understand air-launched weapons threats
Access in-depth data on weapons carried on the world's air platforms. Technical and program information helps military and security organizations with intelligence, planning and procurement, while market analysis enables A&D firms to execute effective marketing, strategy and product development.
Janes Weapons: Air-Launched from Janes Group helps you:
Assess technologies and capabilities
Conduct industry market research
Identify airborne weapons suppliers
Discover emerging defence needs
Evaluate competitors, partners and acquisition targets
Model air warfare threat scenarios
What's included - Profiles of 500+ airborne weapons in 140+ countries cover:
Technical details and capability descriptions
Functionality and operational parameters
Variants, upgrades and planned future enhancements
Operational status and worldwide user base
Combat records
Analysis of types, inventories and aircraft weapon loads
Photographs and diagrams
Suppliers and manufacturers