Online

Verified, interconnected open-source intelligence across land, sea and air platforms, weapons and systems, supports entity recognition, capability and threat assessments, and market analysis.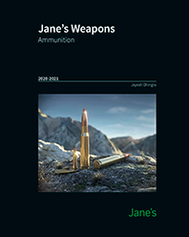 Weapons: Ammunition Yearbook 20/21
Janes Weapons: Ammunition Yearbook 20/21
Identify, procure and counter worldwide ammunition
This guide combines detailed technical information with data tables and photographs of the world's ammunition currently in service with armed forces and paramilitary organizations worldwide. Market analysis boosts A&D business development, while military and security organizations benefit from support for intelligence, procurement and training.
Janes Weapons: Ammunition from Janes Group helps you:
Evaluate competitors, partners and acquisition targets
Monitor tri-service defence capability needs
Identify ammunition suppliers and market opportunities
Benchmark ammunition technology
Direct weapons procurement programs
What's included - Profiles of 1,800+ types of ammunition cover:
Technical details, specifications and capability descriptions
Development and program information
Commercial details
Photographs and diagrams
National inventories
Identification reference tables
Suppliers and manufacturers