Online

Verified, interconnected open-source intelligence across land, sea and air platforms, weapons and systems, supports entity recognition, capability and threat assessments, and market analysis.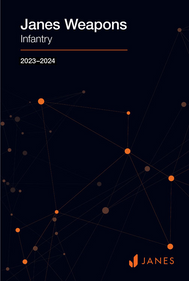 Weapons: Infantry Yearbook 23/24
Janes Weapons: Infantry Yearbook 23/24
ISBN: 978-0-7106-3418-4
Gain a global competitive edge
Gain access to information on military infantry weapons – in development, in production, and in service – for armies and paramilitary organisations worldwide. Military and security organisations benefit from technical content on paramilitary and army weapons.
Janes Weapons: Infantry helps you:
Evaluate competitors, partners and acquisition targets
Conduct industry market research
Identify future infantry weapons capability requirements
Identify weapons sales opportunities
Analyse infantry weapon technology
What's included:
784 records in total
Nine new records including the SIG Sauer MCX Spear rifle and SIG Sauer light machine gun; Chinese Type 171 heavy machine gun; Russian MRO rocket launchers and Victrix Corvo and Scorpio sniper rifles.