Online

Verified, interconnected open-source intelligence across land, sea and air platforms, weapons and systems, supports entity recognition, capability and threat assessments, and market analysis.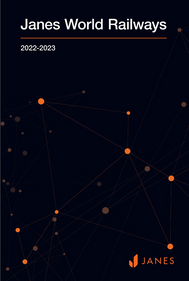 World Railways 22/23 Yearbook
Janes World Railways Yearbook 22/23
ISBN: 978-0-7106-3414-6
Deliver global rail transport solutions
This reference resource offers railway system operator profiles with detailed data covering rail network systems and rolling stock information for 111 countries.
Janes World Railways helps you to:
Conduct detailed analysis of rail infrastructure capabilities of system operator through Rail network datasets
Monitor operator fleet inventory through Traction and rolling stock datasets of individual system operators
Track major projects and contract status through Contract overview Detailed listings of new/ongoing/upcoming projects can be found for rolling stock and network lines category for individual system operators accompanied with project cost and timeline.
Understand latest technology used in Signalling and telecommunication systems
Understand freight and passenger volume demand through Traffic volume datasets
Conduct country rail operations research
Learn about privatisation of state-run railroads
Each rail system operator profile covers:
An overview of the entire operator by providing information on operator headquarters, entity type, services provided, reporting financial year (FY), route and track length data, number of stations, list of subsidiaries/franchises, class type (US rail operators), and website address.
Detailed datasets and information on system operations such as route and track length, electrified route length, gauge and gauge type, voltage and power, and contact system used in electrification.
Information on route lines, intermodal operations, signalling and telecommunications, and electrification system.
Data on traffic volume covering freight and passenger operations
Detailed data on fleet (trains, rolling stock, freight cars) used by operator.
Details on projects and contracts for network line and rolling stock.